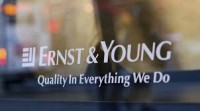 Tectono Business & Politics
gathered that a reputable accounting and auditing firm, Ernst and Young Nigeria, has announced the admission of four partners and an executive director. A statement by the renowned firm stated that the elevation was in line with its Vision 2020 goals, which were focused on building capacity across the spectrum of its services.
According to the statement, Olayinka Shitu had been appointed an executive director in the advisory service line, whereas Esther Ajibola, Maureen Ogodo, Jamiu Olakisan and Omolola Alebiosu were the new partners of the assurance service line.
Ernst and Young's statement stated that Ajibola would play a key role in growing and strengthening the assurance oil and gas clients spanning upstream, downstream, midstream and oil field services of the oil and gas industry.
The statement, while underscoring Ajibola's experience, said that she had managed the global multinationals, various core accounts as well as strategic national accounts in Nigeria, adding that she had over 16 years' experience in audit and had been a key resource in the professional practice group.
The statement read in part:

"Ogodo's client portfolio includes multinational firms in the telecommunications and pharmaceutical industry. Her strength lies in her ability to manage complex and large clients. She has over 15 years' experience in audit and banking operations.
"Olakisan is a pioneer team member of the Financial Accounting Advisory Services and has spear-headed several IFRS engagements across different sectors in Nigeria. He has over 10years' experience in audit.
"Alebiosu has worked across all sectors of the assurance service line and currently plays a pivotal role in the retail and consumer products sector. She has about 12years' experience in audit."