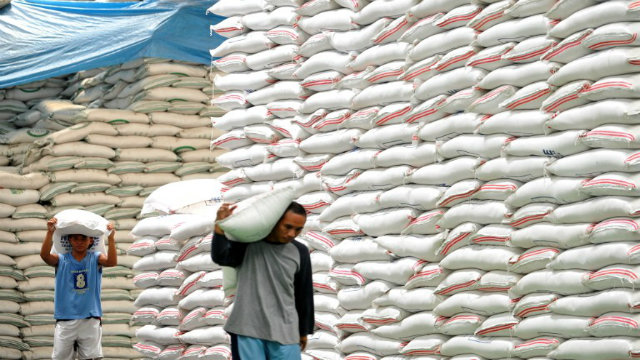 In this era of probes and crackdown on looters, there is nothing we would not hear. Although the dust raised by the move to recover N30 billion lost to the rice import waiver granted by the last administration is yet to settle, the attention of the Senate is being attracted by another allegation of high level fraud in the business.
The Senate, it was learnt might set up an ad-hoc committee when it resumes early next month to investigate the rice smuggling allegation believed to have made the country lose huge sums of money amounting to N117 billion.
For those of us following the messy stories of corruption in high places, the news that some entrenched interests including those who had no investment in the rice value chain, manipulated the rice policy initiated by President Goodluck Jonathan to boost local rice production is just one of the dents in the last administration.
It is a shame that friends of the government in power at the period were recklessly granted quota, which they in turn sold to other importers. This is why we pity the former Minister of Agriculture, who is now the President of the African Development Bank, Dr. Akinwumi Adesina.
The gentleman was busy speaking Queen's English, brilliantly explaining the mileage covered in the nation's agricultural sector through a number of innovations introduced during his tenure.
However, while Dr. Adesina was putting policies in place to reposition the industry, some portfolio contractors who were friends of the government were sneaking into corridors of power in the middle of the night to get allocations for a job they did not have the wherewithal to execute.
However, some of us are monitoring the activity of the Senate especially on the probe of the controversial quota and see how it intends to ensure those involved make adequate refund.
The Senate leadership, last month, had urged the Central Bank of Nigeria (CBN) and the Nigeria Customs Service (NCS); to immediately take steps to ensure that the N30 billion lost to waiver on rice importation by the last administration was recovered.
President of the Senate, Dr. Bukola Saraki, who gave this advice during an interactive session between the Senate leadership and the CBN management, lamented that money that was supposed to get into government's coffers was allowed to be wasted in the name of waivers.

Now that the era of 'paddy paddy' government is gone, Nigerians are waiting and watching how those who frittered away the chance to develop our agric industry are brought to book. (Thisday)