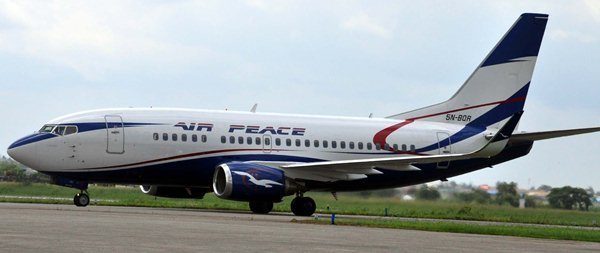 AIR PEACE LIMITED (APL)
wishes to alert the general public to the activities of some unscrupulous elements using its name to defraud unsuspecting air travelers and job seekers.
In recent weeks, the attention of Air Peace has been drawn to the activities of the fraudulent individuals using the social media and placing calls to members of the public to make payments for tickets into private bank accounts. These dubious elements, who claim to be either members of staff or agents of Air Peace, have in the process obtained money from some unsuspecting members of the public.
The fraudsters have also resorted to putting out fake advertorials soliciting applications from desperate job-seekers, who are usually instructed to make payment into personal bank account in order to secure the non-existence job offers. The fraudsters use fake Air Peace websites, blogs, e-mail account and even phone numbers.
Air Peace wishes to dissociate itself from these advertorials, soliciting and representing by these fraudsters. For the avoidance of doubt, there is no recruitment currently going on in Air Peace and the airline will never ask members of the public to make any payment directly or indirectly in exchange for employment.
Air Peace also only maintains business relationships with recognize agents and will never ask members of the public to make payments for air ticket into any personal account.
Members of the public are therefore, advise to only communicate Air Peace through its website, www,flyairpeace.com, e-mail account,
info@airpeace.com
, and
callcenter@flyairpeace.com
, or contact its Head Office at

25, Sobo Arobiodu Street, GRA, Ikeja, Lagos

or any of its airport or other recognize offices across the nation to avoid being fleeced of their hard-earned money as Air Peace will not be responsible for any loss suffered.
Members of the public are also encouraged to report any solicitation for money purportedly on behalf of the airline to the nearest police station.
Corporate Communication Manager
Air Peace Limited
Have you heard this? Many Nigerian exporters have been defrauded of huge amount of money in the process of exporting commodities to foreign countries. Do you know why? They were not trained on export operations, management, documentations and the best methods of payment in export trade. This is terrible!!! Nigerians cannot continue to lose money to foreigners in the course of export business. Exporters, why don't you get a practical manual that teaches the stages of export trade from processing and packaging of commodities to receipt of payment by the foreign buyers. It teaches export operations, export management, export documentations and methods of payment in export trade? It is a contemporary step-by-step guide to export trade. It tells all the contemporary dynamics in export trade. To get it, click on the link below: