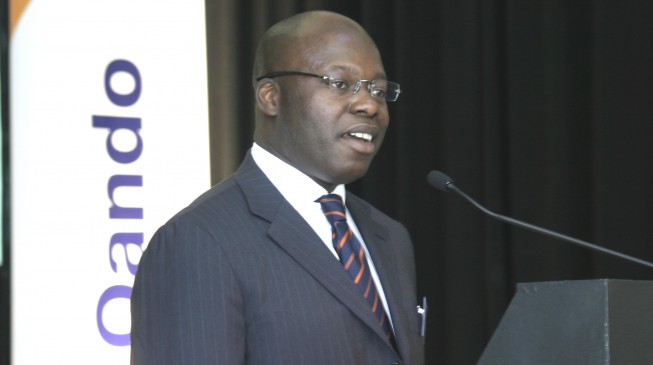 Wale Tinubu, GMD/CEO, Oando Plc
Profit of Oando Plc for the nine months' period this year was down by 52 per cent to N28.7 billion compared to N60.0 billion in 2015. Loss-After-Tax also decreased by 25 per cent to N35.9 billion compared to N47.6 billion in September, 2015 while turnover increased by 26 per cent to N330 billion, compared to N262 billion in 2015.

The company said the Nigerian economic environment impacted its business as it witnessed a further devaluation of the Naira during the third quarter , from an average exchange rate of N280 to $1.00 in Q2 to an average of N316 to $1.00 in Q3 2016, this has resulted in a net foreign exchange loss of N5.4 billion in the 3rd quarter.
The company said, "For the major part of the year, we have faced operational challenges due to the unrest in the Niger Delta, however, we find comfort in the Nigerian Government's discussions and engagement in the region, indicating a possible resolution and as thus we expect our production levels to stabilise and gradually incline in the coming months. Despite these economic challenges, we must highlight our achievements in the 3rd quarter as witnessed by the improvement in our top line revenue as a result of our new business model of a diversified business with higher weighted dollar earnings in both the Upstream and International Trading businesses. This drove revenues up by 96% and led to significant foreign exchange gains between the second and third quarters."


Commenting, its Group CEO, Mr. Wale Tinubu, said, "The third quarter witnessed the FGN establish a ceasefire with the militants responsible for production disruptions in the Niger Delta, leading to stabilised daily productions from our assets and expectations of imminent increases to our 2015 production highs of 56kbbls/day. We have also been proactive in our cost management initiative to ensure maximised value extraction for every barrel of oil produced as the global oil price still lingers below $50/bbl. We are pleased to have executed a SPA with Helios Investment partners for $116 million, representing 49 per cent legal voting rights in the company's midstream business, of which the proceeds of the divestment will be utilised towards the company's debt restructuring initiative.


"Our trading business has grown significantly this year having exported over 11 cargoes of crude with volumes exceeding 11mmbbls and an additional 31 cargoes of other oil based products year to date. Our business model of dollar denominated earnings is taking shape as evidenced from the increased revenue line (95 per cent increase) and future increases from the Upstream business through increased daily production rates and export trading businesses through increased lifting's, with a focus to return our business to profitability by year end."
Inspite of these challenges Oando's loss-after-tax reduced by 32 per cent from N27 billion in half year, 2016 to N8.7 billion in third quarter 2016, while it scored other significant operational highlights in the nine months ended September 30, 2016.


In its upstream business,
Oando Energy Resources
, recorded a total production of 12.0 MMboe (average 43,617 boe/day) and substantially reduced its debt burden from $900 million post acquisition in 2014 to $407 million today, signifying a total pay down of over 50 per cent in 2 years (Sun)