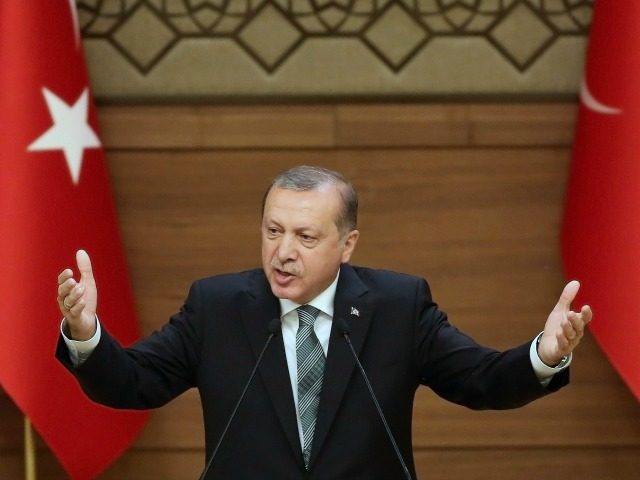 President Recep Tayyip Erdogan
Just a few days ago during our usual rituals of flipping through the pages of newspapers, a nerve-jangling story on how Tur­key was fast drifting towards a full-blown dictatorship captured our attention once again. This time, it was the European Union's (EU) Parliament that was raising con­cerns over the continued flagrant rights abuses and suppression of freedom in that important country.
Like many others, the rationale behind the Turkish government penchant to subject its people to dictatorial rule was a major puz­zle, not until it later became clear to me that the ruling AK Party led by President Recep Tayyip Erdogan has always been possessed by an incurable craving for autocratic rule. Hence, the July 15 failed coup has become a smokescreen for President Erdogan to hit hard on dissent and target perceived oppo­nents, particularly innocent sym­pathisers of the United State-based Turkish cleric, Fethullah Gulen, in­spired Hizmet Movement.
This has prompted the EU Par­liament to raise alarm that Ankara's crackdown has gone far beyond the accepted level, and therefore vot­ed in favour of a freeze of mem­bership talks with Turkey over its post-coup onslaught on the peo­ple. The motion, approved by a big majority of the parliamentarians, is not only a further blow to Erdogan quest to take Turkey into EU but is also a major dent on his declining approval rating across the world.
Relations between Turkey and the EU soured following the July 15 botched coup, which Ankara gov­ernment claims to have been or­ganised by the US-based Gulen. Over 240 people were killed and more than 2,100 others injured in the violence, which the high­ly respected Gulen has strong­ly condemned and denied any in­volvement in. Tens of thousands of people, including military per­sonnel, judges, teachers, right ac­tivists, journalists, among others, have been suspended, dismissed or detained as part of the post-coup crackdown, thereby elongating the Turkey's line to join the EU.
Turkey has been on the wind­ing queue to join EU for decades. It formally applied to become an EU member in 1987 and acces­sion talks only began in 2005, even though Ankara's aspirations to be­come part of the bloc dates back to the 1960s. But the EU parliamen­tarians did not mince words when they
said "we strongly condemn the disproportionate repressive measures taken in Turkey since the failed military coup attempt".
Foreign ministers from the Eu­ropean Union have also criticized Turkey over the large-scale crack­down in the aftermath of the failed mid-July coup bid and warned against the possible restoration of the death penalty. Turkey an­nulled capital punishment in 2004 under reforms aimed at joining the EU.
"Everybody understands that if it goes on like this, Turkey will not become a member of the EU. The death penalty is the abso­lute red line for the EU,"
the Finn­ish Foreign Minister, Timo Soini, had said.
As close observers of interna­tional politics, we had hope that Er­dogan and his co-travelers in rul­ing AK party would listen to the EU and other international bod­ies that are calling for respect of the rights and freedom of the Turkish people, but the Turk­ish government appears defiant as the crackdown on opposition and perceived enemies, especially in­dividuals with suspected link to Gulen Movement, seem to now be an acceptable norm in that coun­try.
What would one say about the recent arrest of Turkey's secular­ist Cumhuriyet newspaper's Edi­tor-in-Chief, Murat Sabuncu, and columnist, Guray Oz, who were de­tained after police stormed their residence in an early morning raid recently? How about the scores of schools, charity organisation, me­dia houses shut down by the Turk­ish government and the massive sack of judges, civil servants, ac­ademics, among others without adherence to the basic tenets of rule of law and fair hearing? How Turkey did plunged itself to this mess of freedom suffocation, and what has really gone wrong to the once-admired President Erdogan? While we keep pondering on these questions, we believe it is not too late for the Turkish government to re­trace its steps and embrace full democratic norms.
Erdogan, unlike some max­imum rulers in Africa, may be lucky not to have any internation­al criminal indictment hanging on his neck as a result of the brazen rights violation in Turkey, but it is time people of goodwill across the world do more to prevail on him to ensure that the good old days of democracy and freedom are re­turned to the great people of Tur­key. (Authority)