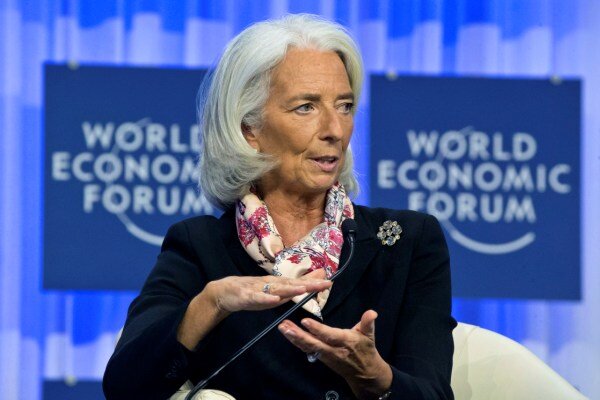 Christine Lagarde, MD, IMF
The Managing Director of International Monetary Fund (IMF), Christine Lagarde, said that she had met with South African Vice President, Cyril Ramaphosa, on the sidelines of the World Economic Forum in Davos and agreed that structural challenges were a burden to economic growth in Africa's largest economy.
Their meeting comes a day after the International Monetary Fund cut South Africa's growth forecast for the next two years, citing political uncertainty.
"We concurred that long-standing structural challenges continue to weigh on growth in South Africa,"
Lagarde said in a statement, adding:

"We consequently agreed that bold and timely reforms are needed to create an environment conducive to job creation and less inequality."
Ramaphosa was elected president of the ruling African National Congress last month, making him likely to replace President Jacob Zuma in 2019, or even earlier.
He has signaled a departure in style and governance from Zuma's scandal-plagued administration. The ANC is currently discussing whether to cut short Zuma's tenure as head of state.
South African businesses have urged Ramaphosa and the ANC's newly elected leaders to quickly introduce reforms that would restore investor confidence and reverse the economy's decline. The South African currency, the rand, has surged since Ramaphosa took the reins of the ANC. (RUTERS)
Have you heard this? Many Nigerian exporters have been defrauded of huge amount of money in the process of exporting commodities to foreign countries. Do you know why? They were not trained on export operations, management, documentations and the best methods of payment in export trade. This is terrible!!! Nigerians cannot continue to lose money to foreigners in the course of export business. Exporters, why don't you get a practical manual that teaches the stages of export trade from processing and packaging of commodities to receipt of payment by the foreign buyers. It teaches export operations, export management, export documentations and methods of payment in export trade? It is a contemporary step-by-step guide to export trade. It tells all the contemporary dynamics in export trade. To get it, click on the link below:
http://www.tectono-business.com/2016/02/contemporary-step-by-step-guide-to.html