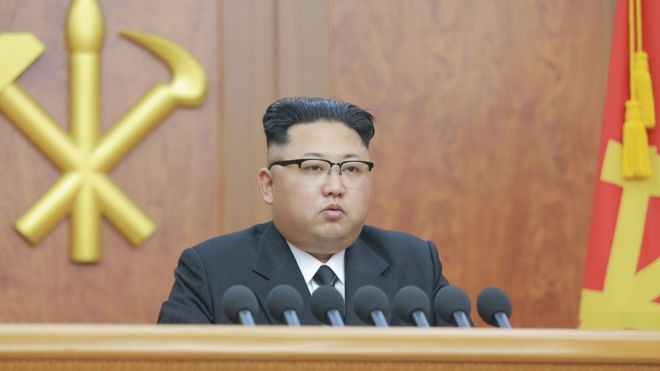 Kim Jong Un
South Korea on Saturday welcomed the renewed prospect of a summit between the United States and North Korea after
President Donald Trump
cancelled talks with
Kim Jong Un
only to suggest they might still take place.
http://www.tectono-business.com/2016/02/contemporary-step-by-step-guide-to.html
"We find it fortunate that the embers of the North Korea-US talks are reignited. We are watching developments carefully,"
Presidential Blue House spokesman Kim Eui Gyeom said.
President Trump's cancellation of the summit blindsided treaty ally South Korea, which had brokered the remarkable detente between Washington and Pyongyang.
President Moon Jae In
had to scramble his national security team when news of President Trump's decision first reached Seoul late Thursday evening as he called Washington's u-turn "shocking and very regrettable".
The summit would be an unprecedented meeting between a sitting US president and a North Korean leader, which Washington hopes will result in full denuclearization of the reclusive state.
South Korea's Moon has pushed diplomacy as he desperately sought to calm spiraling tensions on the Korean Peninsula and an escalating war of words between Mr. Kim and Mr. Trump last year sparked by Pyongyang's detonation of its largest nuclear bomb to date and a series of intercontinental ballistic missile tests. (The Business Times)
Have you heard this? Many Nigerian exporters have been defrauded of huge amount of money in the process of exporting commodities to foreign countries. Do you know why? They were not trained on export operations, management, documentations and the best methods of payment in export trade. This is terrible!!! Nigerians cannot continue to lose money to foreigners in the course of export business. Exporters, why don't you get a practical manual that teaches the stages of export trade from processing and packaging of commodities to receipt of payment by the foreign buyers. It teaches export operations, export management, export documentations and methods of payment in export trade? It is a contemporary step-by-step guide to export trade. It tells all the contemporary dynamics in export trade. To get it, click on the link below:
Hmmm!!! Folks, have you ever imagined how the financial status of your firm will be when more than 20,000 CEOs and other key decision makers of blue-chip corporations pay for your products and services or even give you very juicy deals. The link below will tell you more:
http://www.tectono-business.com/2015/07/tectono-business-review-in-conjunction_21.html