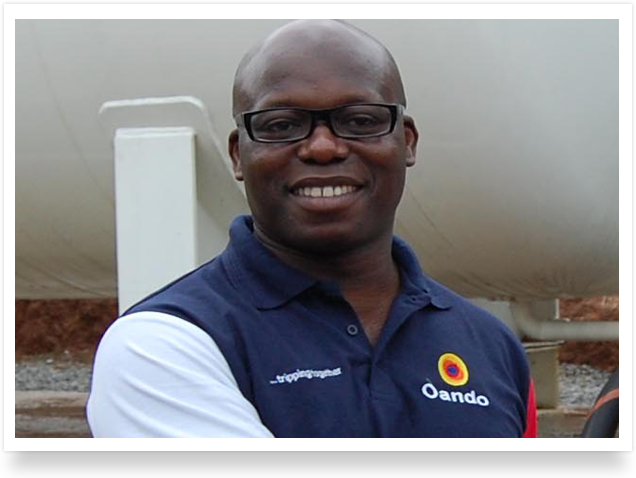 Wale Tinubu, GMD/CEO, Oando Plc
Oando Plc
, the Nigeria's largest independent conglomerate in the energy industry and first Nigerian company to achieve a dual listing on both the Nigerian and Johannesburg Stock Exchange, is an integrated energy solution provider that operates across the entire value of the energy sector of the economy such as petroleum products marketing, supply and trading, exploration and production and gas distribution. This is the largest indigenous oil company in Nigeria with a production output of 54,000 boepd and market capitalization of $894 Million.
Oando Plc, through its exploration and production subsidiary, Oando Energy Resources (OER), has a secondary listing on the Toronto Stock Exchange with a market capitalization approximately $1 Billion.
The Oando story began in 1956, as a petroleum marketing company in Nigeria under the name "ESSO West Africa Incorporated", a subsidiary of Exxon Corporation of the USA. In 1969, the company was incorporated under Nigeria Laws as "Esso Standard Nigeria Limited". In 1976, the Nigeria Government bought Esso's interest and thus became the 100% owner of the company. The company was then re-branded "Unipetrol Nigeria Limited ".
On March 1, 1991, the company became a Public Limited Company- Unipetrol Nigeria Plc. In same year, 60% of the company's shareholding was sold to the Nigerian public under the first phase of the then privatization exercise. In February 1992, the company was quoted on the Nigerian Stock Exchange.
Then, Unipetrol bought over 40% stake in Gaslink Nigeria Limited, a gas utility company, in the year 1999. This acquisition was motivated by a desire to utilize its exclusive gas and purchase agreement with the Nigeria gas company. In the year 2001, Unipetrol increased its stake to 51% in Gaslink Nigeria Limited.
In the year 2000, under the second phase of the Federal Government of Nigeria's privatization programme, Ocean & Oil Services Limited, led by Wale Tinubu and Mofe Boyo, became a core investor by acquiring 30% of the Federal Government's 40% equity stake in Unipetrol Nigeria Plc. The remaining 10% was sold to the Nigerian public. The investment in the then Unipetrol Nigeria Plc by Ocean & Oil Services Limited was with the support of its International Technical Partners, Compania Espanola De Petroleos (CEPSA), who are currently the second largest Oil Group in Spain and ranks among the top 10 Oil Groups in Europe. CEPSA is a fully integrated petroleum company involved in Exploration & Production, Petrochemicals, Natural Gas, Trading, Refining, Distribution and Marketing.
In the year 2002, Ocean & Oil Services Limited led Unipetrol's bid stake of Agip Plc, a rival petroleum marketing firm, owned by Agip Petroli BV, an Italian-based oil company. The merged company was named Oando Plc in 2003, making the company the largest downstream petroleum marketing company in Nigeria.
An integrated oilfield services subsidiary known as Oando Energy Services was incorporated in the year 2005 in order to achieve the group's objectives in the upstream services industry. The company took delivery of two oil drilling rigs in Nigeria's Niger Delta in the year 2007. The following year, the company became the country's first indigenous oil company with interests in producing deep water assets through the acquisition of equity in two oil blocs. In the year 2009, the Oando Energy Services acquired five swamp rigs and launched its first Independent Power Plant (IPP) for Lagos Water Corporation. The project involved the construction of 12.5MW power plant to provide uninterrupted power supply to the Lagos Water Corporation.
In the year 2011, Oando Gas and Power Limited commissioned 128km EHGC Pipeline, which was built under a joint venture arrangement with the Nigerian Gas Company (NGC), a subsidiary of the Nigerian National Petroleum Corporation (NNPC). The gas infrastructure has the capacity to deliver up to 100million standard cubic feet per day (mmscf/d) of natural gas and will deliver an initial 22mmscf/d of gas to its maiden customer, United Cement Company (UNICEM) to fuel its new 2.5 million metric tonnes per annum cement plant located in Mfamosing, Akampka Local Government Area of Cross River State.
In the year 2012, Oando Exploration and Production Limited signed a farm-in agreement with Network Exploration & Production Nigeria Limited for the acquisition of 40% participating interest in the Qua Iboe Field (OML 13) subject to the consent of the Honourable Minister of Petroleum.
In the year 2013, Oando Plc succeeded in raising excess of N55.2 billion from the capital market as its Rights Issue recorded 101% subscription. The company issued 4.548 billion shares to existing shareholders at N12 per share between December, 2012 and February, 2013 with the intention of raising N54.6 billion. Oando Gas and Power commissioned 10.4 MW Alausa Independent Power Plant to provide electricity to the Lagos State Secretariat Complex. Following the decommissioning of Oando Energy Services professionalism in 2013 Oando Energy currently has a fleet of four rigs: OES Teamwork, OES Respect, OES Integrity and OES Passion.
In the year 2014, Oando divested the 128km Eastern Gas Company (EHGC) franchise in a $250 Million transaction with Sevens Energy. The same year, Oando Energy Resources listed on the TSX an affiliate company on Oando Plc entered into agreement with ConocoPhillips to acquire its entire business interests in Nigeria for a total cash consideration of approximately $1.5 Billion.
On the 30th of June 2015, Oando entered into an agreement with HV Investments II B.V., a joint venture owned by a fund advised by Helios Investment Partners and The Vitol Group to acquire 49% of the voting right and 60% of the economic rights in Oando's downstream business for a cash investment of US$276.8 million.
From its beginning as a fuel marketer, Oando has grown to become a sub-Saharan integrated energy company. It currently operates a group structure consisting of six subsidiaries across the energy value chain. It plans to become African energy major. It employs close to 1,000 personnel in various West-African countries.
Oando Marketing Limited, the company's downstream subsidiary owns Nigeria's largest petroleum retail network with over 600 petrol stations. Oando Supply & Trading, another subsidiary of the company is Nigeria's largest independent importer of PMS. The company imported up to 4 million metric tons of white products into Nigeria between 2007 and 2009. In the upstream sector, Exploration & Production is the operator of two oil blocks in Nigeria's Niger Delta region – OPL 278 and OPL 236. The company is also a Nigerian Content Partner with Agip Oil on OPL 282 and has a 45% interest in a marginal field OML 56.
Oando Plc is organized functionally into a number of operating divisions. The divisions are grouped into three categories:
·
Oando Energy Resources – The leading indigenous exploration company in Nigeria
·
Oando Energy Services – Nigeria's largest indigenous rig services provider.
·
Oando Gas & Power – Building sub-Saharan Africa's largest gas pipeline grid and developing independent power plants in Nigeria.
·
Gaslink Nigeria Limited
·
Gas Network Services Limited
·
Oando Marketing Plc – Nigeria's leading oil retailer.
·
Oando Supply & Trading – Africa's largest independent and privately owned oil trading company.
·
Oando Terminating and Logistics – Propelling development of infrastructure to drives efficiency across the downstream.
The current Chairman of the Board of Oando Plc is HRM Oba M. A. Gbadebo. The Group Chief Executive is Wale Tinubu and the Deputy Group Chief Executive is Mofe Boyo. Oando employs a work force of over 1,000 people.
·
HRM Oba M. A. Gbadebo (Chairman)
·
Wale Tinubu (Group Chief Executive)
·
Mofe Boyo (Deputy Group Chief Executive)
·
Bolaji Osunsanya (Group Executive Director)
·
Femi Adeyemo (Group Executive Director)
·
Mrs. Ammuna Lawan Ali, OON (Independent Non-Executive Director)
·
Mr. Francesco Cuzzocrea (Independent Non-Executive Director)
·
Chief Sena Anthony (Independent Non-Executive Director)
·
Mr. Oghogho Akpota (Independent Non-Executive Director)
·
Engr. Yusuf N'jie (Independent Non-Executive Director)
·
Tanimu Yakubu (Independent Non-Executive Director)
·
Ayotola Jagun (Group Company Secretary & Chief Compliance Officer)
·
Over 500 retail outlets in West Africa
·
7 Petroleum Storage Depots
·
2 Lubricant Blending Plants
·
1 Aerosol Filling Plant
·
100km gas pipeline in Lagos and 128km (ongoing) in South Eastern Nigeria
·
16 licenses for exploration, development and production of oil and gas concession in Oando Energy Resources.
Corporate Social Responsibilities
Oando Plc has a thriving Corporate Social Responsibility (CSR) programme.
It has always reinforced his belief that businesses must give back to the societies in which they do business. In the 4
th
quarter of 2011, it donated 1.5% of Oando's pre-tax profits to fund education initiatives across West Africa. Oando PLC through its Adopt-A-School program, has adopted close to 30 government-owned primary schools in Nigeria. As part of the adoption program, these schools have been renovated, provided with water and sanitation facilities and Oando has sponsored key academic and non-academic events in the schools. The company has also given away scholarships to thousands of indigenous students in its host communities.
Its major programmes are geared towards youth, social and economic empowerment with a special focus on improving the quality of basic education in Nigeria. In a nutshell, Oando Plc has innovated numerous avenues for giving back to the society such as:
·
Adopt-A-School Programme
·
Community Development Projects.
Expanding Frontiers and Taking Bigger Risks
WaleTinubu led Oando to be the first African company to get listed on the Johannesburg Stock Exchange with a market capitalization of more than three billion South African Rand. This was considered to be the biggest single listing since telecoms giant Telkom entered into the South African market a few years ago. The company also became the first Nigerian company to set up a secondary listing elsewhere. According to Tinubu at the epoch making event in Johannesburg, "A foreign listing is the logical step for Oando to achieve its Pan-African objectives." Under Tinubu's leadership, Oando has over 500 fuel stations with operations in Nigeria, Ghana, Sierra Leone, Republic of Benin and Togo. On his reasons for migrating from core legal practice into business and subsequent business breakthroughs especially in the early years, he says "I looked around and I asked myself, what area would get me in more contact with the rest of the world because I thought it was important to travel and have commercial interaction with the rest of the world. I picked the oil industry. It was a question of looking for an opportunity. I think I was 25 or 26 when we got our first big loan which was $100,000. We had to pay 10% a month in interest. I was so proud that I actually had a loan and was credit worthy. If they had asked me for 20% a month, I was quite willing to go out there and find the 20% interest… When we said we would deliver at 3pm, our ships would be there at rigs to deliver. And every time we did that they said, well I never knew it was possible to receive your fuel at the time it was requested in Africa."
Reaping the Gains of Risk Taking
Reminiscing on the significance of delving fully into business he adds, "Let me say I was lucky enough to have started the business with my colleagues at the point in time when the tide was changing because what happened was that in the year 2000, the Government decided to privatize. Privatization in certain countries like England is about raising money for the Government. In Nigeria, it's entirely about efficiency; well, more than efficiency, it was about survival. We had a nation state that was growing by 5% every year, we had a population of 140million people, we had power requirement of 15,000 mega watts, yet we produced 5,000. We had petrol queues, huge shortages, housing shortages. And the only way the Government realized we could do it was to sell the companies… The company which we acquired was SO's former downstream assets; we paid 16 million dollars for a 30% stake. The company's market value was about 30 million dollars, and we've been able to grow that business. The group has a market capital next to a billion dollars today and we've been able to achieve this literally from about 15 years of operation from start."
Wale Tinubu gives a short expose on the African continent: "There is really no other frontier that compares to Africa, 'A' from the perspective of the population, the resources that are available and the demand for them and the fact that over 60% or 70% of that population is under the age of 20 which shows growth opportunities. Africa is evolving, democracy is spreading amongst the continent, good governance is increasing, corruption is certainly on a major downturn – it's just not fashionable any longer. The days when you could have all these resources and not be able to explain how you got them are gone and I think investors should realize that there is something new, which I think is special which indigenous companies are. I think fundamentally believe – you can do it. Second thing is: build very strong partnerships, and I think more than anything else, persistence; never give up. There are going to be a lot of obstacles you will face, just treat any obstacle you might face as a learning opportunity and just never give up. I think those things in a nutshell will be my own advice."
Tackling the Challenges of Doing Business
Nevertheless, it has not all been a smooth journey too. Tinubu and his Oando team have battled serious challenges to get to this point in their business history. The challenges of project financing and corruption have stood out of the pack, and he goes on about the clogs: "I think the biggest challenge always clearly was finance; raising capital to do business. The demand for infrastructure and products are so high in the country. We flare enough gas in Nigeria to power the whole of Africa, yet we don't have enough gas pipelines feeding 140million people that exist in Nigeria. We've got massive LNG plants which export gas to the rest of the world on a daily basis and bridging that gap was probably the biggest challenge we faced." He takes an optimistic stand on corruption: "Corruption becomes less of a problem when you liberalize a nation. Petty corruption is totally different from fundamental corruption. The scope for corruption has been limited…" Explaining further, he says "My country is 140 million people. Very few people have a market that size to manage. So in the old days the Government provided all the resources and was the allocator of resources, and they asked for payment in exchange. When you revert to a system which liberalizes an economy and encourages people to come and trade and build and invest, the scope for corruption practically disappears. In fact, the Government announces a project, it takes them five years to deliver it; we announce a project, it takes us 18 months to deliver it, so there's not just much scope any longer and the Government is gradually receding to what it should really be doing, which is creating an enabling environment for the private sector to take over.
Sustainability and the Future of Oando Plc
On sustainability of the successful systems, particularly a big establishment such as Oando, he is not myopic. He is quick to emphasize the need for sustainability. He says, "Succession is important. I spend a lot of time trying to make our people understand that we are only as good as being able to create our capacity- the ladies and gentlemen behind us. Successful societies have taken the best and ensuring that they multiply that best and ensure that there are many more coming. The issue I have is that we are building this company, we are building it very fast and aggressively, but are we ensuring that we are leaving the people behind to keep it going, and keep the succession."